Posted by: House Manager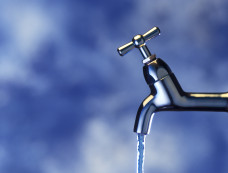 Riga City Council Administrative Commission imposed a fine of 9,000 lats joint stock company "Latvian Investment" which is running the house Alice Street 5, for several months cut off tenants of water.
Home owner, JSC "Latvian Investment", the representative explained that in light of a certified professional opinion, water is circulated through a water threatened the safety of home occupants, because the water supply system unit was in critical condition. So it decided to renovate. Citizens were corrected drinking water, initially twice a week, to see that water is used minimally, once.
Tenants confirmed that water was corrected, but it could not meet people's needs, particularly in summer, while the higher floor residents are encountering difficulties in adequate amount of water carried up in their apartments. We remind you that the health standards for every home residents are entitled to at least 25 liters of water a day. During the summer many of the tenants went to live with relatives or to the cottages and, therefore, the corrected water consumption decreased.
People's anger caused by the fact that the water just off tenants, but apartment owners continue to use it in unlimited quantities, using the same emergency condition