Posted by: House Manager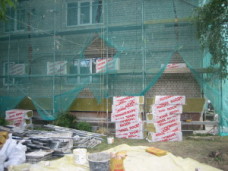 Zemgaļu Street 21, Riga started in apartment home energy efficiency improvement measures are carried out renovation.
The road to the renovation of the building has been long and complex, it is influenced by several factors. The idea for the renovation of the building population occurred as far back as 2009, coming together most active web population, it was decided to move towards this goal.
Residents approached the house manager at the time at SIA "Juglas houses' current SIA" Rigas building administrator "without the support of virtually any kind. It was decided to set up associations of flat owners' Zemgaļu 21 "and look on their own project manager who can help attract European Structural Fund. Unfortunately, people were not lucky, it was chosen for the company, who works unprofessional and submitted draft was rejected.
After the rejection of the project, most people had given up hope of renovation of the building, but thanks tance "Zemgaļu 21″ board members Anna and Amber Eisaku Berzins these expectations remained.
Society board members tried on their own to make the building renovation project, but the time came when realized that this goal will not be achieved. Also, the current manager of the house SIA "Rigas house manager" did not try to help people, it was decided to change the website operator.
On 30 October 2012 it was decided to abandon the existing house manager and the new manager was selected Ltd. "House Manager". Was immediately started work on the renovation of the building to take place in the summer of 2013. Ltd. "House Manager" driver Roland Iesaliņš attracted a professional project manager of the company "our project." The cooperation of all parties – the Society for the manager and the project manager were achieved their objective.
2013, the Company has completed all preparations and begin construction.
And yet the greatest merit due tance "Zemgaļu 21″ board members who have devoted much of their free time and done a great job in their own and those of other citizens despite the obstacles that had to be overcome.